Ready for a tummy un-tuck?
We know you've seen this look on lots of younger women but we'll let you in on a little secret - it's made for us! Not only does it add some highly desired definition and casual chic, it hides a multitude of sins from muffin tops to marshmallow bottoms. So you can have your rolls and eat them too.
But how do we keep from looking like we're either trying too hard or we just plain forgot to tuck in the other side of our shirt because we're old? For guidance, we consulted Nancy Allan of Style + Substance.
Nancy has been a personal stylist to Holly Hunter and Kim Basinger and a wardrobe stylist on 400 commercials. She's also a fine artist, interior designer, mother of four, grandmother of three and all-around friend who always makes you feel better.
Here are her tips:
Your shirt should be loose but not baggy.
Shirt length should hit at mid-hip or just below.
Make it look effortless by tucking in just a couple of inches and blousing the tucked side.
Tuck in the middle or just one side for more coverage.
If you're wearing boyfriend jeans, wear a shirt that is on the more fitted side.
Optional full tuck: Tuck your shirt in tight. Raise your arms up and down two or three times for the ideal blousing effect. Hand-adjust slightly if necessary.
Don't feel you have to stick with hard and fast rules. Don't stick to eras that you're really comfortable in. You have to evolve and figure out what is the evolution of you as an individual.
Even if you have a small frame, an un-tucked top makes you look bigger. The half-tuck puts the focus on your belt and gives you a sleeker silhouette. And it still covers your butt.
T-shirts are best if they are a little drapey and a little loose.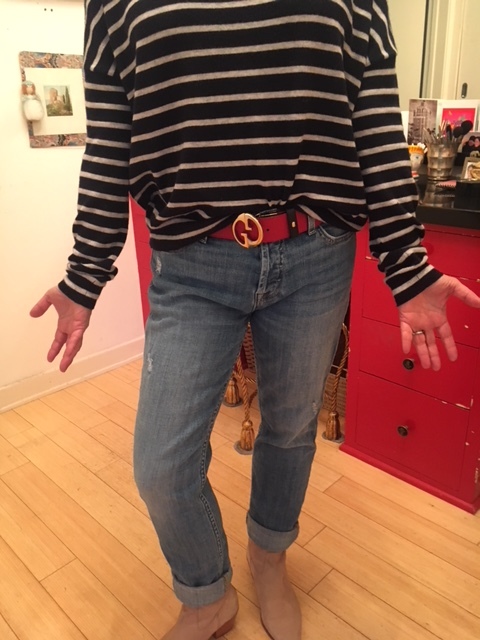 Lightweight sweaters actually work, even boxy ones, but whatever you do, don't tuck in the back.
Perform this painless procedure on yourself, and let us know in the comments, if friends suddenly suspect you've had a little styling work done.